Durable fiberglass boat making is a widely used technique in the marine industry that has revolutionized boat construction. Fiberglass is a material made up of fine fibers of glass that are woven together and infused with a polymer resin. It is highly durable, lightweight, and resistant to corrosion, making it an ideal material for boat construction.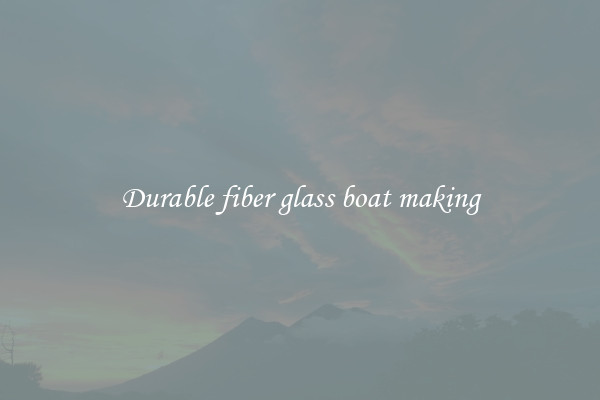 The process of making a fiberglass boat begins with the creation of a mold. The mold is made by applying a gel coat to a plug, which is a full-size and fully detailed model of the boat. The gel coat provides a smooth and glossy surface finish and protects the fiberglass from UV damage. Once the gel coat has cured, layers of fiberglass cloth are laid inside the mold. These layers are sandwiched between layers of resin, forming a strong and rigid structure.
The number of layers of fiberglass and resin used depends on the size and intended use of the boat. Additional reinforcements such as foam cores or stringers can also be added for extra strength and stiffness. Once all the layers and reinforcements are in place, the entire mold is vacuum-bagged to remove any air pockets and ensure a thorough bonding between the layers. The mold is then placed in a heated chamber where the resin cures and hardens.
One of the main advantages of fiberglass boat making is its durability. Fiberglass is incredibly strong and can withstand harsh weather conditions and rough seas. Unlike traditional wooden boats that are prone to rotting and decay, fiberglass boats are resistant to water damage and require minimal maintenance. They are also less likely to develop cracks or leaks over time, ensuring a longer lifespan.
Another benefit of fiberglass boats is their lightweight nature. Fiberglass is lighter than many other boat construction materials such as steel or aluminum, meaning boats made from fiberglass can achieve higher speeds and better fuel efficiency. The lightweight nature of fiberglass also makes it easier to transport and maneuver the boat both on and off the water.
In addition to being durable and lightweight, fiberglass boats also offer excellent design flexibility. The fiberglass molding process allows for intricate and detailed designs to be created, resulting in visually appealing boats. Furthermore, fiberglass boats can be easily repaired if any damage occurs. Minor repairs can be done by the boat owner themselves, while major repairs can be performed by professionals using simple techniques such as patching or refinishing.
Overall, durable fiberglass boat making has revolutionized the marine industry. With its durability, lightweight nature, and excellent design flexibility, fiberglass boats have become the go-to choice for many boat builders and enthusiasts. Whether for recreational or commercial purposes, fiberglass boats provide a reliable and long-lasting option for all kinds of boating activities.